Medical Equipment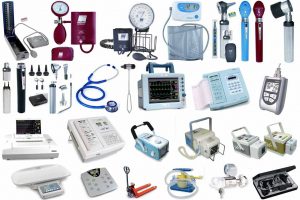 Physiotherapy and accessories
LipoSuction systems
Ventilators
Different types of refrigerators including pharmacy, lab and blood banks
Suction pumps aspirators(battery operated and normal)
Nebulizers
Colposcope, Fetal monitors, cardiotocographs,
S/S amnioscopes, proctoscopes, anoscopes, sigmoidoscopes
Electro surgery units(Bipolar , Monopolar)
Diagnostic ENT sets
Ophthalmoscopes and Otoscopes
Different types of body measuring scales.
Thermometers, Tourniquets System, DVT Pump, patient warming unit.
ENT mirrors – head lights, Magnifying loupes
Video Bronchoscope
Stethoscopes & sphygmos
Ultrasound, Ecography
Patient Monitor, Vital Sign Monitor.
Audiometer & spirometer.
Defibrillators
Sterilization and autoclave
Training manikins
Ice cool boxes including battery operated
Emergency Eye wash units
---
Ventilators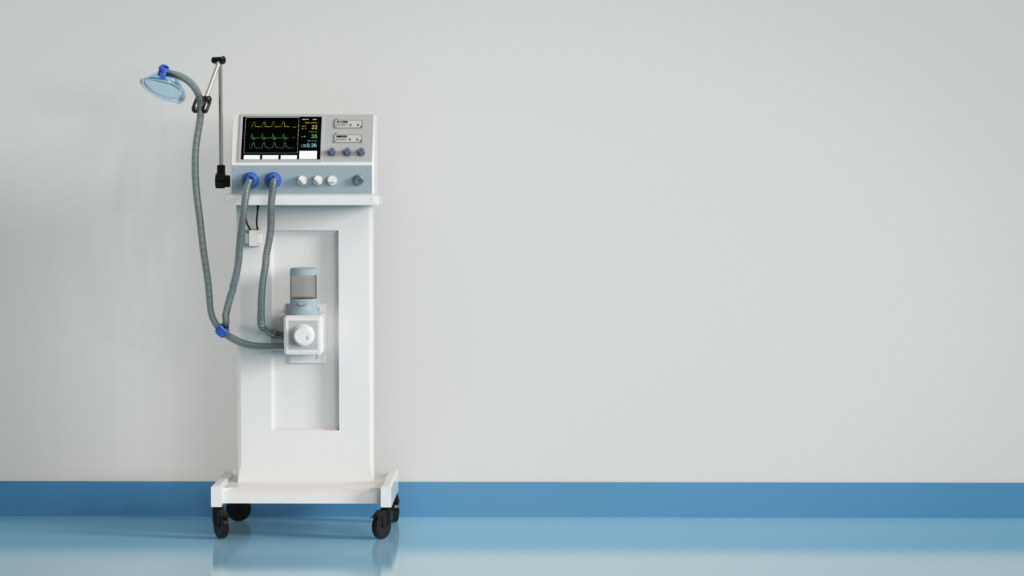 Are you looking for a ventilator for inspection, here is one solution for every situation! From ICU to ambulance. Our wide range of ventilators can be used with all range of patients and can be used for transport and in critical care department too. It is designed to port and to adapt with any challenging scenarios.
Ventilation modes– Volume-Control Modes: V-A/C, V-SIMV, IPPV Pressure-Control Modes: P-A/C, P-SIMV, CPAP, PCV Other modes: CPR, Manual, HFNC
CPR modes– Multiple and rescue modes available
Etco2
CE, ISO & EN1789 certified.
---
Liposuction Systems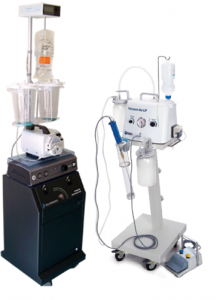 Liposuction is a type of cosmetic surgery. It removes unwanted excess fat to improve body appearance and to smooth irregular body shapes. The procedure is sometimes called body contouring. A liposuction machine and special instruments called Cannula are used for this surgery. We have different types of Liposuction machines, depending on the requirement of end user.
Advantages for the surgeon:
Point accurate work / optimum fat suction
Power-saving and gentle treatment
Shorter operating times
Optimized time / cost calculation
Best possible gentle patient treatment
Handpiece is compatible with all common Cannula
Advantages for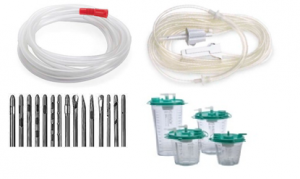 the patient:
Optimum cosmetic results
Gentle treatment
No thermal stress on the tissue
Fast recovery after the operation
Consumables Supplied:
Sterile Tumescent and Lipo Suction Tubing
Aspiration and Infiltration Handles
Different types of Suction Cannula
Filters, Needle Connector and Syringe
Collection Canisters
Breast Augmentation Instruments
---
Patient Monitoring Medical Equipment
The patient monitoring equipment available in your health care facility speaks volumes about the care your patients will receive, and everyone wants to provide top-notch health care services. However, budgetary restrictions often leave some facilities with sub-par equipment and medical supplies, forcing them to make do with what they have. Thankfully, medical monitor technology- is ever improving, making way for more affordable yet reliable machines. Arab European Medical is specialized in distributing affordable patient monitoring equipment, which you can feel proud to have in your facility. Our machines feature the latest medical monitoring technology, and include:
Patient Monitor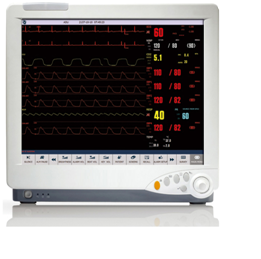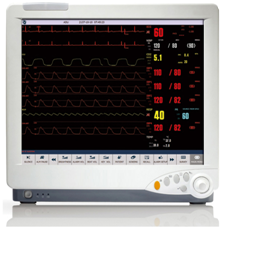 When doctors and hospitals need accurate patient monitor equipment that provides real-time vital signs data, they turn to Arab European Medical. Our patient monitor equipment features:
12,1" Touch screen user interface
Large, easy-to-read graphical and tabular display
Non-invasive and invasive blood pressure readings (optional modules)
Electrocardiogram
Respiration tracking
Temperature data
EtCO2 (optional modules)
Anesthetic drug dosing
Multi-lead capacity
Central monitoring station networking capability
And more…
---
Vital Sign Monitor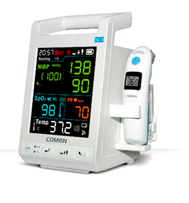 "Vital Sign monitor" is a small multi-parameter patient monitors, which can monitor 3-4 vital physiological parameters. Features include:
NIBP, MAP, SpO2, Temperature, HR
Integrated rechargeable Battery for up to 12 hours
Masimo SpO2 (option)
High resolution display
Compact and lightweight – only 1.2kg
Quick body temperature measurement within 2 seconds
Incl. wireless infrared ear thermometer
---
ECG machine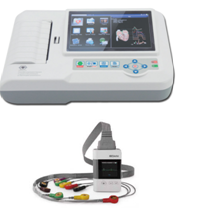 An Electrocardiogram Machines is a necessity for most healthcare facilities due to its primary function – monitoring the electrical activity of the heart. Features include:
Portable or Table Top
3 / 6 / 12 channels with interpretative programme
12 standard/cabrera ECG leads
5.7" colour TFT screen (320 x 340 pixels)
100 test memory
Transfer memory to external USB source
Print results using an external printer via USB
Alphanumeric keyboard
Easy load thermal paper – (112mm wide)
---
Pulse Oximeter
Hand-Held Pulse delivers quick and reliable pulse oximetry spot-checking for multiple environments including physician offices, EMS, hospitals, outpatient clinics and home healthcare. We have both portable and handheld, small, light-weight pulse oximeters in our product range with high accuracy and reliable performances.
Features include:
High accuracy and repeatability
Visual and audible alarm, with adjustable limits
Portable or Hand-held unit, easy to operate
with SpO2 and pulse rate display
USB Output port for PC data download
Adjustable SpO2 and pulse alarm settings
---
Ultrasound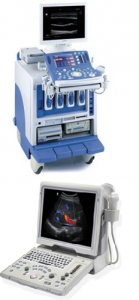 Ultrasound imaging (sonography) uses high-frequency sound waves to view inside the body. Common ultrasound imaging procedures include: Abdominal ultrasound, Fetal ultrasound, Breast ultrasound, many more.
Features include:
Available in 3D, 4D capability, Table top or Trolley and many more
Premium Design, Surprising price.
Ultra-compact and ultra-light weight, easy to carry.
Latest LED screen technology, super bright images allow to easily view scan even outdoor.
Ergonomic monitor design, 30 degree rotation, adjustable.
Ultra-long battery life up to 2.5 hours, for outdoor scanning
One-key to enlarge image to full screen, easy to view from distance
Streamlined workflow, easy to operate, 6-one-key to finish the cycle of diagnosis.
---
Bone Densitometry
A bone densitometer is a piece of X-ray apparatus used to measure the calcium content of bone to reflect bone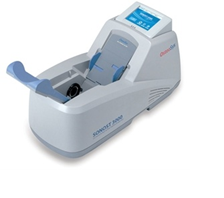 density and therefore bone fracture risk. The device generates two X-ray beams and the difference between them in how much energy is passed through the bone is used to determine the extent of bone loss.
Features include:
Superior precision
Full dry and stand alone system
Fast measurement (only 15 seconds)
Auto positioning probe
Permanent coupling pad
Over 10,000 memories
---
Nebulizers
Nebulizer changes medication from a liquid to a mist so that it can be more easily inhaled into the lungs. We have different type of nebulizers such as: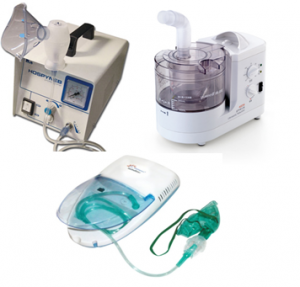 Piston Compressor Nebulizer
Ultrasound nebulizers
Professional hospital nebulizers
---
Colposcope
Rather to traditional optical colposcopes, we are having digital colposcopes with an LED light source to ensure ultra-bright visualization and a long life cycle.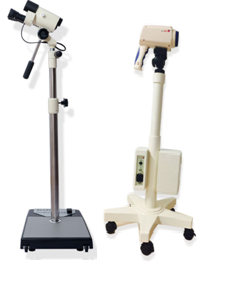 Their spot-on-spot subtraction technology and unique optics provide multiple filters to ensure high-definition images and improved visualization of blood vessels.
Features include:
High definition 1.43 Million megapixels color CMOS
1x – 40x zoom magnification
HDMI connection
Ultra-bright multi-point white and blue LED light source
3 green light filters
Built-in video capability
Automatic and manual focus option
Image freeze button
---
Fetal Doppler
Fetal Doppler is a hand-held obstetrical unit, which can be used in hospital, clinic and home for listening to a baby's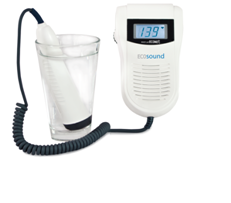 heartbeat. It contains components of an ultrasonic transducer and receiver, analog signal processing unit, Fetal Heart Rate (FHR) calculating unit, LCD display, Control Unit.
Features include:
Battery status indicator
Low power inspection of the battery
Built-in speaker
Output for headphones
The probe can be changeable
Probe inspection
Backlight
Auto shut off
Support 2MHz,3MHz,4MHz,5MHz,8MHz probes
---
 Fetal Monitors
Fetal monitors are bedside units that consist of a monitoring unit, cables, and electrodes. They are designed to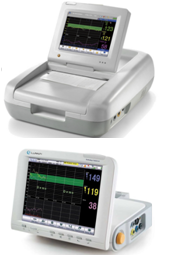 measure, record, and display FHR, uterine contractions, and/or maternal blood pressure and heart rate before and during childbirth.
Features include
Available in LCD or LED display:
Integrated battery
Easy to transport
Monitoring of fetal movement
CCV (Cross-Channel Verification) Function
Easy wall mounting
Selectable scaling (International / German)
Incl. probes, event marker, CTG-belts, ultrasound gel and paper
450 hours patient data saving
Easy data transfer through USB stick
Multiple language support
Free Central Software
---
Defibrillators
The only effective treatment for a person who has suffered a sudden cardiac arrest (SCA) is the combined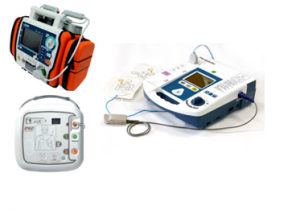 administration of CPR and the use of a defibrillator. A defibrillator will deliver an electrical shock to stop the irregular rhythm and allow the heart's natural pacemaker to restart the natural rhythm. We have wide range of Defibrillators in our product range.
Features include:
Manual and AED Operation
Defibrillation using paddles or pads
Synchronized cardioversion
Efficient and effective e-cube Biphasic technology (BTE Type)
SpO2 pulse oximetry with alarm
ECG monitoring (3 Lead ECG / 5 Lead ECG / 10 Lead ECG)
Noninvasive pacing mode
---
Infusion Pump
Infusion pump is intended for the infusion of chemicals such as anti-cancer drugs, oxytonic, nutrition, and drug for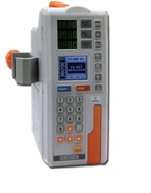 chemotherapy medication.
Features include:
Light and compact design: light as 3.5 kg, compact design, and easy to use.
Flexible flow setting and easy operation method:
Full program dosage feature:
Easy recognition of alarm
Notifying remaining battery
Keep Vein Open feature
Ultrasonic air bubble detector
---
Syringe Pump
Our Syringe Pump device is designed for high flow-rate accuracy and ease of handle in the infusion of solutions with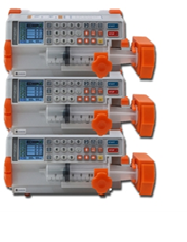 the equipped audio-visual alarms and state-of-the-art sensors.
Features include:
Flexible flow volume setting.
Full program dosage feature (optional)
Keep Vein Open (K. V. O.) feature
Each pump can be calibrated for up to 9 different syringes.
Alarm and notification feature
Occlusion error range setting
Colour display
Automatic set-up system (flow rate, time, delivery volume)
Easy and quick installation of syringe, just in five seconds
---
Cautery Equipment unit and accessories
Our electrosurgical unit is technologically extremely advanced and suitable for every kind of Monopolar and bipolar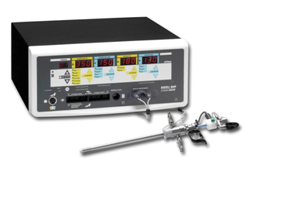 use in all the surgical fields. It is even provided with a special current for the bipolar cut under liquid, and it is self controlled by specific and innovative operative software, which makes it particularly indicated for all the new endoscopic procedures in urology and gynecology in saline solution.
Features include:
Patient-to-plate contact control
Split return electrode use
Minimally invasive surgical treatment allowed
Monopolar and Bipolar independent output
Auto Start/Stop in Bipolar Coag
Working condition planning
Power delivery by pedal and/or handle
Digital regulation and indication of the output power
Sound level control
Adjustable power increment
Accessories include: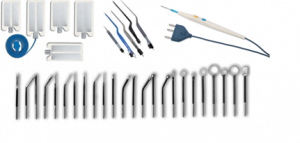 Electrocautry pencil, Bipolar-Monoploar Forceps and cables
Different type of Electro Tips
Bipolar-Monoploar Plates
---
Emergency wash units
An emergency eyewash and safety shower station is essential equipment that every laboratory which uses chemicals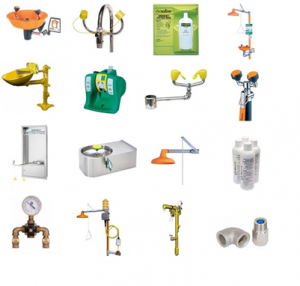 and hazardous substances needs. Different models of Emergency Eye wash units are available:
Wall-Mount Eyewash
Faucet Eyewash
Bottled Eyewash
Safety Shower / EyewashPedestal-Mount Eyewash
Portable Eyewash
Deck Mounted Eyewash
Drench Hoses
Laboratory Units
Drench Showers
Freeze Resistant Units
---
Diagnostic ENT sets (Ophthalmoscopes and Otoscopes)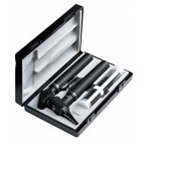 Diagnostic sets are among the most critical tool sets in a clinician's repertoire to perform a comprehensive physical exam.
---
Ophthalmoscopes
Ophthalmoscopes are handheld tools that allow a physician to see into the fundus of a patient's eye. This type of diagnostic tool is commonly used in physical or outpatient exams.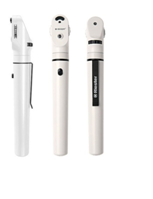 We carry two types of ophthalmoscopes.
Direct ophthalmoscopes produce an upright image of approximately 15 times magnification. These tools are held as close to the patient's eye as possible.
Indirect ophthalmoscopes produce an inverted image of 2 to 5 times magnification. Indirect ophthalmoscopes are held 24 to 30 inches from the patient's eye. Indirects also have a more powerful light so they are more effective than directs when used in patients with cataracts.
---
Otoscopes

Otoscopes are handheld devices that allow physicians to look into the ear canal and view the tympanic membrane through the magnification lens.
---
Stethoscopes
Stethoscopes are probably the most recognizable of all medical diagnostic tools.  Electronic Stethoscopes improve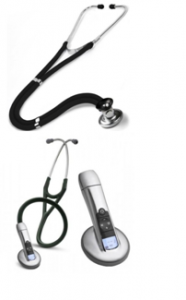 sound quality when listening to the low-pitched heart sounds and the high-pitched pulmonary sounds. They can be connected to a computer to record and save the sounds. They can be hooked up to distributors that allow multiple people to listen on adjoining stethoscopes. This last feature is important when training interns, residents, and fellows.
---
Sphygmomanometers
Manual sphygmomanometers are considered the most reliable. Mercury manometers don't require routine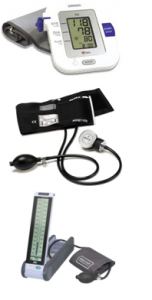 calibration and therefore are used in high-risk scenarios.
Aneroid sphygmomanometers are a little less reliable because they can lose their calibration when bumped, which can be a common occurrence in health care settings. Wall-mounted styles can reduce this possibility, but should still have calibration checks to be sure. The aneroid style is easily identified as a mechanical unit with a dial for the readings, as well as a bulb and air valve.
Digital sphygmomanometers, like the digital finger blood pressure monitors, are also electronic. They can be inflated either manually or automatically. They are easy to use, but derive blood pressure in an indirect way. Digital units measure mean arterial pressure, which basically translates into an average of the systolic and diastolic pressure. The digital sphygmomanometer then must derive what the systolic and diastolic readings would be. These are helpful in noisy areas where the manual mercury manometers would prove ineffective because of the need for the clinician to hear the Korotkoff sounds.
---
Spirometers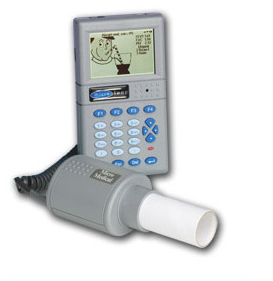 Spirometers are lung function devices used to perform spirometry. The flow volume loop is the most important test in spirometry.
---
Headlights with Surgical Loupes

LED Headlights with Surgical Loupes used for examination and instrumentation of the ear nose and throat and other areas
---
Training Manikins
Manikins are available in three skin tones: light (original), medium and dark. The range of CPR training manikins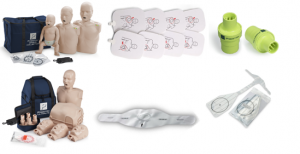 available with Arab European Medical is as follows;
Adult Manikins
Jaw Thrust Manikins
Child Manikins
Infant Manikins
Specialty Packs
Ultralite® Manikins
Manikin Accessories like Lung-Bags, Face Shields, Trainer Replacement Pads, Mask Adaptors, CPR Practice Shields on a Roll
---
We are always adding new equipment. Please feel free to contact us for an updated list.
---