We offer a wide selection of hospital furniture. The following is a summery of the furniture we offer, please scroll down for more details.
Hospital beds, mattresses and bedside tables, ward screen
IV stands and accessories
Cabinets, desks and tables, examination couch.
Electrical and hydraulic couches and chairs
Gynecological couches
Operation theater tables
All types of trolleys
Transport Boxes
Led theater lights, Diagnostic, examination lights, Minor and major surgical theater lights
Outpatient clinic and ambulatory furniture
Hospital ward stretchers
ENT cabinets and furniture.
Wheel chairs
Baby Cribs

---
Hospital Ward Stretcher
We offer a wide range and various types of hospital stretchers that fully satisfy all requirements and meet international standards.
Description:
Steel structure with epoxy coating
4 sections
Lift system bed supported by columns
Radiolucent bed, made of HPL, 10 mm thickness
Guide system that allow to perform RX plates around the bed by holder cassette support
Knee section movement ( middle section ) by gas spring
Independent footrest manually operated
Hydraulic height adjustment: 56-88cm
Two sided pedals for height adjustment, trendelenburg and reverse
Trendelenburg and reverse operated by hydraulic system (+-12º)
High density viscoelastic mattress, fire retardant and antistatic ( thickness 8cm)
Upholstered in vinyl, antibacterial, abrasion resistant, M-1 class. Easy to clean and maintenance
Body restraint strap
Centralized break system
200mm wheels, two of them antistatic
Fifth wheel to easier the movement
Ergonomic push handles
Folding side rails with security lock
IV support, four hooks, adjustable in height with insertion in four corners
Thermoplastic lower base made in ABS, easy to clean with oxygen bottle support and belongings
---
Ambulance Stretchers
We offer several types of high-strength alloy aluminum ambulance stretchers and rescue stretchers.
Description:
 All-Metal Frame Construction-provides strength, long service life, and exceptional performance with heavy patients.
Wider Bed Surface and Head Frame-provide comfort and support for various size patients and extra elbow room during intubation and CPR.
Complete Bariatric Solution—with bariatric push-pull handles, 1100 lb. load capacity in the lowest position, and optional LBS and LBS Jr. Bariatric boards.
Length max: 79 inches
Length min: 64 inches
Loading Height: 34 inches
Weight: 92 lbs
Load Limit: 700 lbs
Width: 24 inches
---
Gynecology Examination couches
We offer a complete series of gynecology examination couches. From simple tables to electrically and hydraulic gynecology chairs. Our gynecology examination couches have been carefully designed with both the patient and the physician in mind.
Description:
Painted Epoxy coated steel
Base Central column and covered in ABS electrically adjustable height
Backrest Positionable from horizontal to sitting electrically adjustable (90º)
(Pelvis support) with electric trendelenburg (21º) manually folding and removable (90º)
Stainless steel collector
Adjustable height
Upholstered In SKAY
---

Hospital Trolleys
We offer a wide range of trolley solutions to suit every requirement. Our different types of Trolleys including lockable Storage Trolleys, Dressing Trolleys, CSSD Trolleys, Anesthesia Trolleys, Medicine Trolleys, Emergency Trolleys .Our Trolleys come with anti microbial coating.
---
IV Stand and Accessories
We offer a wide range of IV poles and stands for every requirement. All of our IV poles are subjected to intense safety and hygiene measures. They are robust, stable and steady, easy to clean and simple to operate.
IV Stand Accessories:
Bottle Holder
Bottle Bar
Infusion Bottle Holder
Pushing Handle
Shelf Rectangular/Round Shape
Monitor Shelf
Identification Case
Rail, Double Wall/Compact
Pump Holder
Wall Rail/Mount
Drainage Holder 2 Hooks
Pump Holder for 2 Devices
Medical Rail
Coat Holder with 2 Hooks
---
Operation Theater Tables
General Surgery Operating Table accommodates all general surgery applications in addition to a wide range of specialist procedures. Outstanding quality for reasonable price, versatility and functionality ensure operational comfort for everyday surgical work.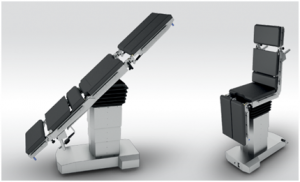 Optional table tops and bases, together with wide range of additional accessories make it suitable for general and specialist surgical procedures.
Description:
Battery powered, with charger built-in the base.
Unique software providing smooth and precise table movements.
Superior electro-hydraulic system, with technical solutions of the world leading micro hydraulics provider
Optional override control system, mechanic-hydraulic, used in case of corded hand control damage, failure of drive or main control system.
Range of table movements controlled via the hand control:

Height adjustment.
Table top tilts: lateral and longitudinal (trendelenburg and Rev-trendelenburg).
Back rest section and kidney bridge (option).
Longitudinal slide (option).

Adjustment angles of 40° trendelenburg and 30° tilt make it ideal solution for minimally invasive procedures.
Range of table movements controlled mechanically or gas spring supported:

Backrest section and kidney bridge.
Footrest sections.
Headrest sections.
Longitudinal slide.
---
Blood Extraction Chair
We offer a wide range of blood sampling chairs. They are designed to provide comfort and assurance for patients and safety and confidence for staff. These models bring you premium quality at an economical price. The gas spring assisted backrest can be fully reclined for patient comfort and emergency positioning.
Characteristics:
Steel Structure with epoxy coating
Backrest and footrest gas-spring operated
Electric reclining seat
Trendelenburg / anti trendelenburg
Adjustable armrests
Withdrawing-hidden wheels with blocking system
---
Baby Crib
We offer a wide range of baby cribs mounted on either PVC stumps or castors in Epoxy coated Mild Steel as well as complete Stainless Steel framework. The design of our infant beds confines the child to the bed.
Description:
Aluminum, Stainless and epoxy steel coating structure
High impact ABS base
Removable and anatomic laminated plastic basket
Foam mattress upholstery in SKAY
Trendelenburg / anti trendelenburg (+ – 13º) by gas spring
Lateral push handle
100mm rolling wheels, two with brakes
---
Wheel Chairs
We offer different types of wheel chairs that meet every requirement.
Description:
Folding frame
Regulation lights
Motors 320 watt with direct tap
Speed governor
Batteries: 100 A without maintenance
Range: 6 h (40km)
Speed: 8 km/h
Battery charger
Electromagnetic brakes
Adjustable in height and removable arms
Swinging and detachable footrests
Chest strap
Anti-overturn wheels
We are always adding new products. Please feel free to contact us for an updated product list.
---